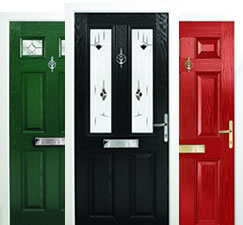 Are you a door installer? Do you want to improve your product list to give your customers a better choice? Would you like to provide all your customers with a safe and secure entrance door which gives the best possible protection for their home or business? If so, the FD30 Fire Door is a great addition to your product portfolio.
Why choose the FD30 Fire Door?
FD30 Fire Doors are so called because they provide 30 minutes of fire resistance. This gives anyone inside a burning building enough time to call the emergency services or escape from danger. In all multi-occupancy buildings, fire protection is a pre-requisite for any new installations. To ensure that you are compliant with current safety regulations, the FD30 Fire Door is an excellent choice.
The FD30 Fire Door from Vista Panels features:
Approved 30-minute fire protection rating
Five colour choices
Instant security automatic door lock
Fire resistant glazing
Completely non-toxic elements when ignited
Our fire doors are suitable for a range of applications including social housing, high rise accommodation, and private residential properties. They are independently tested to ensure that they provide the best possible protection in case of emergency.
Vista Panels: suppliers to the trade
At Vista Panels, we manufacture and supply a range of high performance entrance doors. Alongside our FD30 Fire Doors we also fabricate and supply PVCu panels and composite doors. We offer all our trade customers competitive prices and excellent lead times. With Vista Panels as your door supplier you'll be able to offer your customers a bespoke service with every door installation.
If you work in the fenestration industry and you'd like to work with a reliable door supplier, contact Vista Panels today. For more information on our FD30 Fire Doors or any of our products and services call 0151 608 1423 or send us a message online.