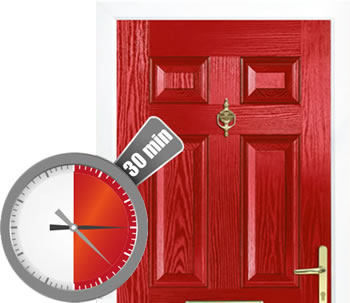 Social housing developments must adhere to strict health and safety regulations. For installations in multi-occupancy buildings, emergency escape and fire retardation are important factors to consider. Installers for both social and private housing developments need to be fully aware of the attributes of the materials they are using. Stopping or delaying the spread of fire and smoke is imperative, particularly in multi-storey residential buildings.
The importance of FD30 fire doors
FD30 fire doors are designed to delay the spread of fire for up to 30 minutes. This gives occupants the chance to escape or call the emergency services. At Vista, we manufacture high performance fire doors suitable for private and social housing. Our fire doors use a combination of materials to create a door which is both safe and visually attractive.
Vista FD30 fire doors undergo rigorous testing to ensure that they provide the necessary protection. They are tested at an independent fire testing centre where they are certified as safe and given an official rating. Fire doors are now an essential requirement for social landlords. In light of the recent Grenfell Tower disaster, it has become increasingly apparent that more needs to be done to protect the occupants of high rise social housing developments in the case of fire.
Considerations for specifying fire doors
If you're involved in a social housing development project, safety is paramount. You must never compromise on safety as you could be putting lives in danger. With Vista as your fire door supplier, you can rest assured that you'll comply with all the necessary regulations. FD30 fire doors from Vista provide:
Certified 30-minute protection
Intumescent seals to restrict the spread of flames and fumes
Self-closing mechanism with automatic door lock
Fire resistant glazing sections
100% non-toxic materials when burning
Vista FD30 fire doors feature an eco-frame made from recycled materials. It is 100% non-toxic and will not emit any harmful gases during a fire. When you want the best fire protection for residents in your social housing installation contact Vista Panels. For more information on our FD30 fire doors call 0151 608 1423 or send us a message online.