Like other shared accommodation, the threat of fire within a block of flats is greater than it is in unshared housing. With more people at risk and more potential causes of fire, fire doors are a must in such areas. However, they're ideal for use in other areas too. Read on, as we take a closer look where.
Fire resistant composite doors
Fire doors must be used as the entrance doors on flats. And in light of the recent Grenfell Tower tragedy, where the fire managed to spread from 1 flat to 20 in the space of 12 minutes, fire doors must be able to provide effective protection against the spread of fire. However, Vista's fire resistant composite doors are FD30 certified, preventing the spread of fire and smoke for up to 30 minutes. For a comprehensive overview of their specifications, follow the link here.
Automatic door locks
Fire doors will not work properly unless they are shut. Doors in a block of flats are likely to be in consistent use, which increases the risk of one being left open. However, Vista's fire resistant composite doors feature an automatic locking system, meaning the risk is minimised. This means their ideal for usage here.
Care homes and other shared accommodation
Fire resistant composite doors are, however, not just ideal for usage in flats, they're perfect for usage in any type of shared accommodation. This includes house shares and care homes.
Final exit doors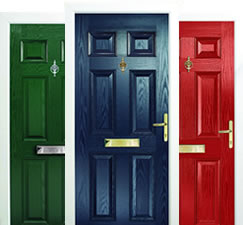 Unlike the entrance doors to individual flats, the final exit door to a block of flats does not have to be a fire door. However, some resistance to fire is still useful in such areas. Therefore, Vista recommends our PVCu door panels for these cases. They're constructed from two PVCu skins that have been pressure bonded to an extra high density fire retardant polystyrene core. More information on them can be found by following the link here.
Unshared accommodation
Residences which aren't shared do not require a fire door, although a fire resistant composite door is worth suggesting to customers who are particularly safety conscious. For these types of accommodation, a standard composite door is the best option. The feature a GRP skin, high density polyurethane foam and multi-point locking system. This ensures for optimum levels of security, weather resistance and thermal performance. You can find more information on their technical specification using the link here.
Are you an installer looking for the ideal door to use for either a private or commercial application? If you are, get in touch with the team at Vista today. You can call us on 0151 608 1423 or send us an online message.