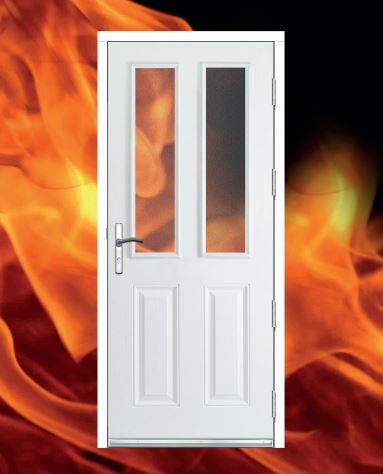 Are you a double glazing installer? Do you regularly install fire doors in communal buildings such as apartments, sheltered housing, and commercial properties? If so, are you happy with your composite fire doors supplier?
Recently, the Ministry of Housing Communities & Local Government sent out letters to customers of Manse Masterdor fire doors to inform them that a review of the doors is required, as they are consistently not meeting the 30 minute fire resistance standard. This highlights that there is a real issue with unreliable, and potentially unsafe, fire door suppliers, which double glazing installers should be aware of.
Composite fire doors are designed to delay the spread of fire throughout a property. So if you consistently install them, you could be inadvertently compromising people's safety. Unless manufacturers can provide proof of testing and the correct certification for their products, it's best to steer well clear of them and find yourself a proven fire door supplier.
A reliable composite fire doors supplier with certified products
When you want the best in composite fire door technology, look no further than Vista Panels. Our FD30s fire doors are some of the industry's best performing doors. Manufactured using a Glass Reinforced Plastic (GRP) slab, they perform excellently in terms of thermal efficiency and security. Fitted with an ultra-dense, CFC polyurethane foam core that is heavily resistant to fire, they have undergone rigorous testing and are certified with a 30-minute fire door rating. This gives occupants a much higher chance of escape in the case of a house fire.
The best in safety and security
At Vista Panels, our composite fire doors use a five point automatic locking system. The hook-locks automatically engage when the door is closed. This ensures that the door is secure at all times and the spread of fire is always avoided. Constructed from 100% non-toxic materials, they produce 100% non-toxic gases when burned too.
If you're looking for a composite fire doors supplier, Vista Panels is the ideal partner. We offer all our trade customers competitive prices, nationwide delivery and excellent lead times. For more information on our fire doors or any of our high performing entrance doors contact Vista Panels today. Call us on 0151 608 1423 or send us a message online.