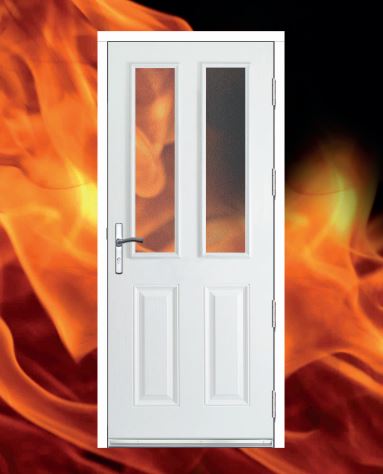 Are you a double glazing installer? Do you regularly install fire doors in communal buildings such as apartments, sheltered housing, and commercial properties? If so, are you happy with your composite fire doors supplier?
Composite fire doors are designed to delay the spread of fire through a building. To do this, they are designed and produced to some of the industry's most exacting standards. All fire doors should come with the correct certification and proof of testing. If they don't, you could unknowingly be putting people's safety at risk.
What to look for in a composite fire doors supplier
When you want the best in composite fire door technology, look no further than Vista Panels. Our FD30s fire doors are some of the industry's best performing doors. They are manufactured using 100% non-toxic materials which, when burned, produce 100% non-toxic gases. They have undergone rigorous testing and are certified with a 30-minute fire door rating. This gives occupants a much higher chance of escape in the case of a house fire.
Our FD30s fire doors are built using a Nan Ya slab. Alongside boosting thermal efficiency and security, its CFC free foam core is also great at resisting fire destruction. If you want glazed sections in your fire door, we can incorporate fire rated glass into your door's design. Our fire doors are perfectly suited for installation in private and social housing sectors, in both single and multi-occupancy buildings.
The best in safety and security
At Vista Panels, our composite fire doors use an automatic locking system. The hook-locks automatically engage when the door is closed. This ensures that the door is secure at all times and the spread of fire is always avoided.
When you're looking for a composite fire doors supplier, Vista Panels have all your needs covered. We offer all our trade customers competitive prices, nationwide delivery, and excellent lead times. With Vista as your composite fire doors supplier, you'll always meet installation deadlines. For more information on our fire doors or any of our high performing entrance doors contact Vista Panels today. Call us on 0151 608 1423 or send us a message online.