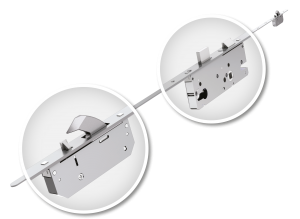 Here at Vista, we offer AV2-E motorised locks by renowned lock specialists Winkhaus. The AV2-E is an automatic multi-point locking system. It employs a motorised function for opening doors and automatically locks via the use of a latch and two hooks. Doors using these locks are opened remotely via a convenient access control system, or with a key.
Exceptional security with Vista doors
AV2-E motorised locks are rigorously secure, thanks to an arrested locking bolt that has 25 mm visible width and claw action. When used with the main deadbolt, the motorised automatic locking system has been granted 'VdS class A' quality assurance. The locks are also PAS24 accredited. Introduce yourself to the AV2-E motorized locking system.
Outstandingly reliable automatic locks from Vista Panels
Thanks to a protective coating that exceeds the standards of EN1670: 2007 Grade 4, the AV2-E resists corrosion incredibly well. Their gearboxes have been tested to 100,000 cycles too. This makes them one of the most reliable and durable automatic locking systems available, guaranteed to provide years of trouble-free operation.
AV2-E – Where are they recommended for?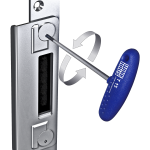 They are ideal for use on communal entrance doors, where a new or existing intercom or push-button locking mechanism is being used. Both of these are regularly found on commercial and private properties. However, their ability to openly remotely means they're a useful solution for anyone that finds getting around the house especially difficult. We at Vista have previously helped to provide them to homeowners suffering from these issues.
Designed for use with aluminium doors and Vista composite doors, browse through the Vista Panels brochure below for full details.
AV2-E Video
Downloads