As we all know, composite doors are now one of the most popular entrance door options for both UK homeowners and installers. They provide a range of benefits for installers and homeowners alike including enhanced security protection, improved energy efficiency, and excellent customisation capacity.
At Vista Panels, we manufacture and supply the market leading XtremeDoor. Available in a wide range of styles and finishes, the XtremDoor sets the standard for high performance and attractive aesthetics. This year has seen the composite door market go from strength to strength. Composite door sales continue to increase making them a strong rival against uPVC alternatives. But what is the most popular composite door colour? Let's take a closer look.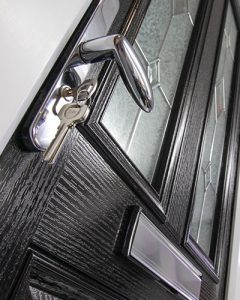 The popularity of black composite doors
At Vista Panels, our best-selling composite door of 2018 was the black composite door. This should perhaps come as no surprise. Black, after all, is the colour that goes with anything. A black entrance door is sleek and stylish and will complement the aesthetics of any type of property. From modern new-build houses to more traditional properties, a black entrance door suggests sophistication and understated elegance.
Black entrance doors have been installed in properties across the globe. The UK's most famous house – 10 Downing Street is well-known for its stylish black entrance door and many other UK properties have opted for black as the entrance door colour of choice.
Black composite doors – the stats
To put our 2018 composite door sales into perspective, it's helpful to compare our results. As our best-selling composite door colour, black composite doors sold just over 7,000 units. This makes black composite doors by far the most popular choice for 2018. The second most popular with just over 5,000 sold was Anthracite Grey. Contemporary and attractive, grey composite doors really came into their own in 2018.
Also proving popular this year with over 2,000 doors sold were Chartwell Green and Slate Grey. It's fair to say that aesthetic fashions change over time but some styles and colours will always be popular.
At Vista, our plans for 2019 are already underway. We will be releasing two new composite door collections. The Urban Collection will take the existing XtremeDoor as a model and incorporate a wealth of new features and benefits – more information to come in the new year.
If you're a glazing installer and your planning to expand your product portfolio in the new year, choosing Vista Panels as your composite door supplier is an excellent idea. For more information about any of our products and services call us on 0151 608 1423 or contact us online.