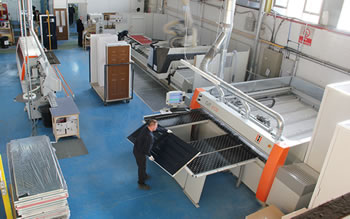 It's no secret that the composite door market is booming at the moment. According to the 2014 Palmer Market Report, composite doors had a 40% share of the entrance door market, up from 38% the previous year. However, the 2017 report highlights that they now have a 54% share of the market, which is a 9% increase in volume from the previous year.
Yet despite the huge growth of composite doors, the number of fabricators moving out of manufacturing and choosing to buy in is on the increase. For example, the 2017 Insight Report points out that the number of manufacturers has dropped from 392-379 from 2014 until 2017. Keith Sadler, managing director of Vista, explains why he thinks these fabricators are realising that composite door manufacturing is a false economy.
Why have composite door fabricators stopped manufacturing?
When composite doors first started to become a mainstream product between five and ten years ago, the number of fabricators moving into composite door manufacturing grew significantly. You can understand why – they had a captive audience of installers willing to buy and they couldn't possibly be that difficult to manufacture…
But over the last few years we've noticed a shift. Vista has been getting more and more enquiries from fabricators that are choosing to move back out of composite door manufacturing and choosing to buy-in instead. But why? In my opinion here are the six key reasons:
1. Machinery costs
If you want to manufacture composite doors, you need to invest in specialist CNC machinery. CNC machinery doesn't come cheap, and if you're only making a handful of doors per week it will take a long time before you to see a return on your investment.  What's more, machinery requires ongoing maintenance, and this can be a drain on resources especially if you're not making very high volumes.
2. Guarantees
If you're buying in pre prepped slabs, where does the guarantee stand? Two companies have produced the door and that can cause an issue if the product fails. The benefit of buying a full door set is that the guarantee stands with one company. Vista offer a 10 year guarantee and have been in business 20 years – or twice as long as our guarantee.
3. You need experienced personnel
In order to successfully manufacture composite doors you need experienced personnel. This means you either need to employ new staff or train your existing team, which costs time and money.
4. Lack of factory space
The more products you manufacture, the more space you need in the factory. Sacrificing space for a product you're selling relatively small volumes is a luxury not all fabricators can afford.
5. Stockholding
You can't use the same components on a composite door as you would a PVC-u door. You need different locks, a different outer-frame and you will need to offer a wide variety of widths, styles and colours to accommodate customer demand.
6. Legislation costs
All products now need to be CE marked, which of course costs additional time and money. But if you want to be taken seriously in the composite door market you can't just opt for the bare minimum of CE Marking – your door needs PAS23/24 and Secured by Design accredited if you want to stand toe to toe with the main players.
Buying in composite doors makes better sense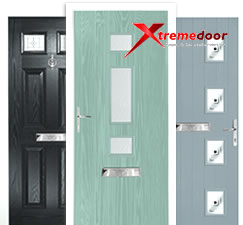 When you take these six reasons into consideration it's no surprise more and more fabricators have realised composite door manufacturing is a false economy and are choosing to buy in from specialists like Vista.
When you consider the resources Vista has at its disposal you can see why it makes better financial and logistical sense to buy in. We operate from a 50,000 square foot factory, half of which is dedicated to composite door manufacturing (the other half is for PVC-u panels) and carry 1,500 door blanks in seven colours, six styles and three widths at any given time. We offer a five day turnaround, nationwide delivery and very competitive prices, which ultimately saves our customers time and money and enables them to offer a wide composite door choice.
What's more, as a composite door specialist, we've been able to refine our product offering and create arguably the best door on the market in its price range. XtremeDoor has a five point lock, stainless steel hardware, a triple sealed outer-frame, a 3×3 adjustable hinge and can achieve a U-Value of 0.8 in some styles thanks to the foam filled slab and uPVC edgeband. XtremeDoor can be ordered online and is backed by a suit of consumer facing marketing literature to help retail companies communicate the benefits of XtremeDoor to the end user.
If you're a fabricator that's making composite doors and would like to see the benefits of buying from Vista for yourself, please don't hesitate to get in contact.