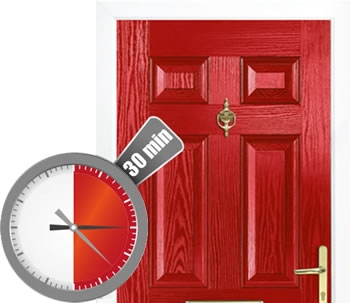 Put simply, the purpose of having a fire door installed is to prevent the spread of a fire throughout the building, allowing occupants to more easily vacate and find a safe exit.
Our fire doors are best suited to be installed in any house situated in the private and social sector, always ensuring that these properties are up to snuff to stand the heat.
What is a fire door?
A fire door supplied by Vista consists of several elements. The door itself is typically made from a solid timber frame that also has the additional ability to be glazed with fire-resisting glass if necessary. For extra reinforcement and protection, an intumescent seal surrounds the frame designed to expand at exceedingly high temperatures. This seal tightens the gap between the door and frame.
Our FD30 fire doors are known as such due to their impressive ability to offer 30 minutes of protection to a room in the unlikely event of a fire. We know this fact as when manufactured, all fire doors are subject to testing by a fire testing centre and given official certification as well as a rating.
Ultimate safety and high performance
The FD30 fire door is designed to perform two primary functions. They provide a defensive barrier when shut to keep siphoned off areas protected, ensuring that any escape routes out of the building is always accessible. For optimal function, the FD30 fire door should be kept free of obstacles and obstructions.
As well as facilitating the safe evacuation from a building, the FD30 fire door is also essential if you want to protect a property in the event of a fire and reduce damage. The higher rated fire door that is installed, increases the likelihood that any valued items will remain safe. A fire door supplied by Vista features a 44mm thick slabs for extra reinforcement.
Where are they recommended for?
The Vista FD30 fire door is best suited to areas that are more at risk of being susceptible to a fire. As such the private and social housing sectors have proven most popular for installations. Modern domestic properties are subject to building regulations, stipulating when and where FD30 fire doors must be used.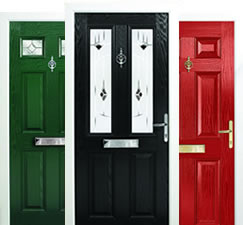 Unique features to a Vista fire door
Nan Ya slab/Ecoframe
100% non-toxic elements when burning
Fire resisting glazing
Automatic door lock for instant security
Certified 30-minute door rating
Available in 5 colours, ranging from black to red
Fire door suppliers you can trust in Vista
Our fire doors are available in any RAL colour as well as 5 base variants. They do not release any harmful gases in the event of a fire, using 100% non-toxic material and an Ecoframe made from recycled materials. With a FD30 fire door you can offer your customers style as well as security.
Established in 1995, we have been supplying composite doors and uPVC panels for trade customers for well over 20 years. Our products are manufactured to meet the highest quality all supplied within a lead time of ten working days. For more information, contact us today.