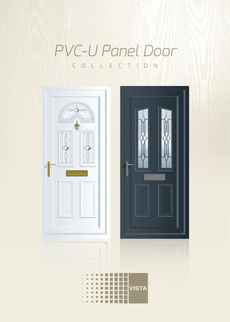 Vista Panels has from strength to strength over the past few years, XtremeDoor helping bag an unprecedented 7 awards for the regeneration of Liverpool's iconic Victorian Welsh Streets, including Development Transformation of the Year. Now we've given our PVCu panel door brochure a makeover and updated with exciting new additions to our range.
New brochure from one of the UK's leading PVC door panel suppliers
The updated brochure reflects consumer trends of the past few years, including the rise in popularity of stylish inverse moulding. This trend is highlighted with the unveiling of the Amatis Collection. As opposed to the raised mouldings, the collection features mouldings that recess into the door. Homeowners have taken to the collection due to the elegant slimline look that resembles the traditional carved lines of timber while retaining the benefits synonymous with PVCu.
Ian Smith, Vista's Business Development and Marketing Manager, commented: "While the continued success of XtremeDoor has put us at the forefront of the composite door market, we've never taken our eyes off the manufacture of PVCu panels. They have been good to us over the years and our customers have been loyal in staying with us.
"Our suite of brochures have all been designed with our customers in mind and our PVCu Panel Collection, Composite Door Collection and Contemporary Collection mean that we can offer the complete door package to any fabricator"
You can download the latest version of our PVCu door panel brochure from our website. Alternatively, you can request a copy of the brochure be sent to you by filling out a short form and a member of our team will be in touch with you.
Offer a varied range of PVC door panels to your customers
Vista Panels are industry experts in PVCu door panel development. When you choose Vista as your supplier, you access a wealth of industry knowledge and product expertise. Our product range is continually evolving taking into account industry trends and consumer taste, to ensure you can always offer your customers a varied range of high-quality PVC and composite doors.
With a fast turnaround, marketing support and a quick and easy online ordering platform, get in touch with us today about growing your business. For more information about our company or our range of products and services, contact us today. Call us on 0151 608 1423 or send us a message online.