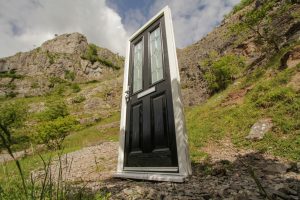 Industry-leading composite door fabricator Vista could already boast the UK's strongest, most recognised door brand with XtremeDoor – but now the firm's best-in-class composite door has got even better.
The GRP skin on XtremeDoor is now 100% thicker, increasing from 2mm to 4mm. As Building Regulations grow increasingly strict, XtremeDoor is PAS 24: 2016 approved, fully compliant with Document Q, and passes the stringent cut-through test.
The revised and more demanding PAS 24: 2016 test gives composite doors three minutes to survive an attack using two chisels (a 6mm and a 25mm) and a Stanley Knife. Using just these tools, if the tester can cut a 50mm hole – large enough to get an arm through and open the door, in less than three minutes, the door fails.
Introduced in October 2015, the changes to UK Building Regulations mean all composite doors installed in new build properties are required to meet PAS 24: 2016 standards under Approved Document Q.
A tough and secure composite door
"We designed the XtremeDoor to be the toughest, most secure composite door product on the market," commented Managing Director Keith Sadler. "But we haven't been complacent. We're constantly striving for ways to make XtremeDoor even more exceptional – and that's exactly what we've managed to achieve here. Not only coming with a 100% thicker GRP skin, the XtremeDoor now boasts an upgraded five-hook lock, which pulls tighter to the frame and offers an even better weather seal." The new lock has increased the weatherability of the door from 800 Pascals to 1200 – in other words improving the door's weather performance by 50%.
Founded in 1995, Wirral-based Vista specialises in composite and PVCu panels and doors, supplying to fabricators across the UK and Europe. Last year, Vista was acquired by Eurocell, one of the UK's leading manufacturers, distributors and recyclers of window, door, conservatory and roofline products. Vista was also named 'Panel and Composite Door Supplier of the Year' at the prestigious National Fenestration Awards 2016.