One of the most important elements of a door is the lock, the traditional key lock with a lever handle or even bar handle is not suitable for everyone. That's why here at Vista Panels we offer a motorized lock in the form of the Winkhaus AV2-E lock. If you haven't heard about the AV2-E lock or you don't know much about it, you may find these facts beneficial.
1. The AV2-E creates an automatically locking door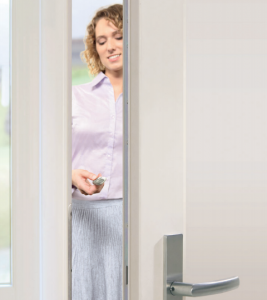 If you've ever forgotten to lock a door and then spent the next few hours uncomfortably paranoid that someone might try and enter your home, then you would definitely benefit from the main feature of the Winkhaus AV2-E motorised lock. When a door with an AV2-E lock is closed, the user no longer needs to lift the handle lever in order to engage the hook locking mechanism. As an automatic multi-point locking system, the AV2-E features a latch and two hooks that, upon the door closing, will hook automatically to achieve instant security.
2. The AV2-E is adaptable
Once fitted in our XtremeDoor, the AV2-E lock is then hugely adaptable, where the user can wire it up to a compatible intercom system or digital entry system. It can be used for commercial purposes, on multi-occupancy dwellings, or in residential settings where the owners want to do away with traditional key entry locks. It can even be paired with remote access tools such as from your smartphone, for those unable to get to the door to open it themselves i.e. the disabled or those confined to bed.
This case study provides a perfect example of how XtremeDoor and Winkhaus go the extra mile for disabled customers.
Vista Panels provides the AV2-E locking mechanism and more
If you're a fabricator looking to provide the AV2-E lock as part of the doors you offer, or you're looking for premium PVCu panels or composite doors, Vista Panels can provide these to the highest standard of quality. If you require further clarification or information on our products and services, don't hesitate to contact us, or if you're interested in our products, get a quote today.
Related topics: