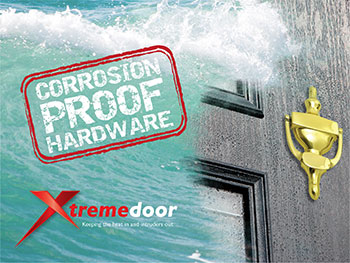 With an estimated 30 million people living near the UK coastline, installers will be pleased to know that XtremeDoor, the high performance composite door from Vista, is designed to withstand the seaside environment.
As well as featuring stainless steel handles and letter-plates complete with a 25 year guarantee, XtremeDoor offers Nanocoast® urn knockers designed to resist corrosion from salt water. 
Nanocoast® urn knockers are manufactured using high specification stainless steel and have been salt spray tested to ASTM B117 for 2,000 hours. These urn knockers come complete with a lifetime guarantee, meaning installers can be confident XtremeDoor will continue to perform regardless of environment – and can pass on this peace of mind to homeowners in areas vulnerable to hardware corrosion.
Corrosion-proof composite door
Keith Sadler, managing director of Vista, comments: "Along with general pollution, salt spray and salt in the air will attack metal coatings on hardware, tarnishing them very quickly. XtremeDoor hardware is resistant to corrosion, meaning installers can offer an attractive and high performing door solution for coastal properties as well as those within areas with higher levels of pollution."
As well as salt water resistant hardware, XtremeDoor has a triple sealed outerframe and uPVC edgeband, offering protection from heavy rain, wind and draughts. 
Keith continues: "XtremeDoor brings together components designed to withstand harsh weather conditions, creating a much more comfortable living environment for the homeowner. For instance it is 19% more thermally efficient than the solid timber core composite door and 17% more thermally efficient than a traditional timber door, meaning installers can sell on quality rather than competing on price and enjoy better margins."
Vista helps installers communicate these benefits to the end user through a comprehensive marketing support package that includes a retail brochure and a consumer facing website: www.xtremedoor.co.uk 
For more information on XtremeDoor call 01516081423 or contact us