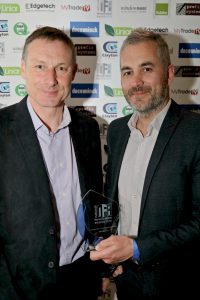 Merseyside-based composite door specialists Vista are celebrating two nominations at The National Fenestration Awards 2017. The reigning champions are looking to retain their Composite and Panel Door Supplier award, whilst Business Development Manager Ian Smith is nominated for Social Networker of the Year.
National Fenestration Awards
Celebrating its fourth year, the National Fenestration Awards are the industry's fastest-growing independent awards. With 17 categories, winners are decided not by judging panels, but by nominations and online votes from industry professionals through the NFA website.
"We are really pleased to be nominated for Composite and Panelled Door Supplier of the Year – an award we proudly won last year," comments Ian. "It's great to see our hard work and the dedication of our team recognised by our industry peers. We are fully committed to improving the business and our products to give our customers everything they need to succeed."
"Our XtremeDoor range is the result of continued development and investment to create a product that can really add value to an installer's offering and help them sell at the sharp end. And when other door manufacturers are pulling out of the panelled door market and writing it off, we are still seeing plenty of demand from trade customers across the UK – offering both solutions which helps our customers avoid dual-sourcing.
This year, Vista has once again strengthened XtremeDoor achieving Document Q accreditation. Add to this a number of new door styles, colours and hardware options and XtremeDoor delivers a first-class solution for any application.
Ian's nomination for the Social Networker of the Year recognises his proactive approach to promoting Vista and interacting with customers across their social media channels.
"It was real surprise to see my name up for Social Networker of the Year, I couldn't be more chuffed," adds Ian. "Social media provides a great way to interact with our customers and showcase what we can offer to new businesses. Vista is built on great customer relations, whether that's over the phone, in person or through one of our social media channels."
Both Ian and Vista will find out if they have been successful when the winners are announced on Monday December 4th. Voting is open now via the NFA website and closes on Thursday November 30th.
For more information call us on 01516081423 or send us an online message.