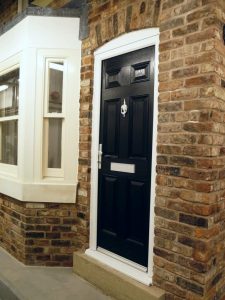 With Vista celebrating its 25th anniversary this year, we look back at the leading composite door manufacturer and PVCu panel supplier's link up with Salford University's Energy House in 2012, being ahead of the times – and why it's still at the forefront when it comes to energy efficiency.
The current environmental and economic situation has encouraged us to strive to increase our energy efficiency at home, thus reducing our individual carbon footprint and our energy bills.
For composite door manufacturer and PVCu panel supplier Vista, however, sustainability and energy efficiency has always played an important role, none more so than when the award-winning manufacturer teamed up with the Energy House in Salford, almost a decade ago.
A world first
The University of Salford's Energy House is the only fully climate-controlled research and energy efficient test facility in the world with a fully functioning home inside.
Opened in 2011, the full-size two-bedroom terraced house is built in an environmental chamber and can replicate almost any weather conditions.
Around 30% of all the energy used in the UK is used in our homes and 45% is used in all buildings and Energy House undertakes ground-breaking research on the energy use within buildings, including issues around materials, systems and controls, as well as the way people use energy in their homes.
Vista – ahead of its time
It was way back in 2012 when Vista teamed up with Energy House, highlighting how far ahead of the game the Wirral-based manufacturer was.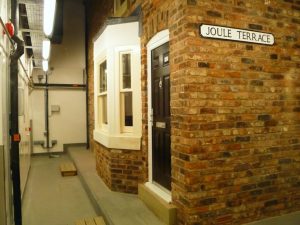 Quick to recognise the significance of the work being undertaken by the University, Vista realised that the work being done at Energy House was of great value to both professional and commercial organisations.
The company was quick to offer its assistance in providing products that could be tested in the Energy House environment at the time to see the thermal efficiency displayed.
They were subjected to a range of climatic conditions including varying degrees of humidity, rain and wind and Vista's MD Keith Sadler said: "Energy House was hugely valuable to help us understand both the strengths and weaknesses in our products and the work they did then, and still do today, is incredibly valuable.
"Accurate determination of thermal performance was hugely important to provide our customers with complete confidence in our products – and it's even more vital today."
Still at the forefront
Vista is still at the forefront when it comes to thermal efficiency today, with its popular XtremeDoor offering first-class thermal performance.
The high specification composite door is six times better at insulating than timber thanks to a combination of a high insulating foam core, triple seal outer frame with thermal inserts and PVCu edge banding. All these components combine to make the door as energy efficient as possible.
"Energy efficiency measures are key to delivering on our carbon targets and if every household took action on energy efficiency now, we could achieve 11% of the UK's 2050 zero-carbon target," said Keith.
"Homeowners are becoming more aware and are not only looking for a door that is secure but also one that is thermally efficient to cut their energy use and save money on their bills.
"Upgrading a front door to something more thermally efficient is an easy way for homeowners to cut down on their energy consumption – and it's one of the reasons why XtremeDoor is proving so valuable to installers."
And with Vista celebrating its 25th anniversary this year, and scooping Manufacturer of the Year at the National Fenestration Awards at the end of 2019, the company is looking forward to more success this year.
For more information, call 0151 608 1423 or visit www.vistapanels.co.uk.