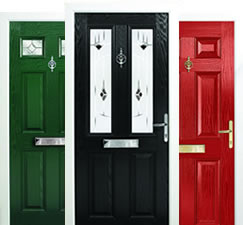 The Nan Ya is one of the highest performing composite door slabs and a market-leader. But why should you specify a composite door with a Nan Ya slab as part of your range?
1. Stunning aesthetics popular with homeowners
Homeowners want a composite door that looks amazing. With a high-quality timber-effect finish designed to emulate the aesthetics of oak graining, the Nan Ya composite slab has the beautiful, authentic appearance of timber with none of the maintenance issues that come with the real thing.
Combined with the slim sightlines of the matching woodgrain-effect glazing cassette, and available in a variety of designs and colours, the Nan Ya slab composite door can be customised to suit the demands of any homeowner.
2. Impressive thermal performance
Tested by the University of Salford's energy house, the Nan Ya slab has been proven to be the most thermally efficient composite door slab on the market. Thanks to its high performance, high-density CFC-free PV foam core, the Nan Ya slab offers superb levels of environmentally friendly thermal retention.
Energy efficient products that can help to reduce the cost of heating bills in a household are becoming increasingly popular with homeowners, so specifying a composite door with the ultra-energy efficient Nan Ya slab is a great way to tap into this market.
3. Unparalleled security features
Nan Ya slabs also have great security benefits. They've met the most stringent security testing criteria that the UK has to offer, and they've even been proven to withstand police battering rams, supporting the industry-wide view that Nan Ya slabs are some of the most secure and durable on the market. Specifiying a composite door with Nan Ya slabs can help you to win projects that call for high-security home improvement products.
4. Exceptionally durable and weather resistant
As a result of the Glass Reinforced Plastic (GRP) exterior, nan ya composite door slabs are extremely hardwearing, easily resisting the knocks and scratches that occur during day to day use. Plus, the edges are fitted with water resistant polymer composite rails, in order to protect the core. The result being that no timber is exposed, so it will not suffer from water absorption, which eventually causes the delamination of the skin and functional issues. Customers want to invest in a new front door that's going to last, which is exactly what they'll get with a nan ya slab.
Vista: specialist composite door slab suppliers
Here at Vista we supply high-quality composite doors to trade customers, nationwide. We offer the Nan Ya in our Xtreme Door range because of its exceptional performance and the many benefits that it offers installers. To see how Vista can help you, give us a call on 0151 608 1423 or send us an email.