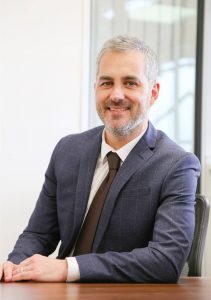 The past year and a half has been a testing time for everyone in the glazing industry, but we're now on the road to recovery. Here, Vista Panels Business Development Manager Ian Smith shares how the Wirral-based award-winning company has evolved…
When we celebrated Vista's 25th anniversary in May last year, we couldn't have predicted the unprecedented market conditions we'd find ourselves in.
Just two months prior, we'd been forced to shut our doors during a national lockdown, and it was very difficult to predict what the market was going to do.
Despite uncertain times, we continued to keep in contact with our customers, providing reassurance and answering queries.
As with most in the industry, however, as soon as restrictions were lifted, we experienced a huge surge in demand as more and more UK consumers spent money that would normally have gone towards holidays abroad on home improvements.
Sales of both our XtremeDoor composite door and our uPVC panels soared to what would become a 30% increase by the end of the year.
We decided on a phased approach to re-opening, scaling up staff and production levels on a week-by-week basis, meaning we could put a limited production and support team in place to meet immediate customer demand and kick start from where we'd left off before lockdown.
It was this phased approach, combined with close relationships with our suppliers, that prepared us for the supply chain disruption and subsequently increased delivery times that soon plagued the industry.
Today, thanks to strategic planning, investment in the business, and a lot of hard work behind the scenes, we're able to offer quick lead times on our products, with an impressive one-week lead time on our uPVC door panels, something which is still very hard to come by in the current market.
Continued investment
Today, despite the challenges we've faced, Vista is in a very strong position, and this is largely thanks to two expansion programmes we've undertaken since the beginning of this year.
These investments saw us increase our factory footprint by a further 18,000 square feet, enabling us to increase our stockholding, avoid supply chain disruptions, and mitigate raw material shortages caused by both the pandemic and Brexit.
Increased production also allowed us to add five new door styles to our XtremeDoor range, further strengthening our place in the composite door market.
The new styles include Napoli, Stuart, Farmhouse Square, Farmhouse 1, and Cottage ½ Glazed, all of which perfectly compliment the rest of our stunning range of styles and provide more choice for homeowners.
All new styles have been included in our new product brochure, the launch of which earlier this year was also a big achievement for the business.
Designed with our customers in mind, the new brochure also includes our full suite of contemporary and traditional hardware, and also complements our uPVC Panel Collection brochure, allowing us to offer the complete door package to any fabricator.
Also this year, we launched Lauren's Blog, dedicated to the end user.
Headed up by our Social Media Co-ordinator Lauren Barnes, the blog can be found on our dedicated XtremeDoor website, and features expert advice on door designs, colours and style options.
While our website details everything a visitor needs to know about our products and services, Lauren's Blog has allowed us to branch out to the homeowner as well, providing information on the latest trends and helping them make important decisions when it comes to their doors.
Weathering the storm
Looking back over the past 18 months, I'm extremely proud of how far Vista has come.
We have of course faced many challenges, and with the boom in demand for home improvement products showing no sign of slowing down, those challenges haven't disappeared.
But thanks to strategic planning during the UK's initial lockdown and continued investment in the business, we've managed to weather the storm and come out the other side in a very strong and stable position.
Today we are committed to facing head on whatever lies ahead in order to deliver the same reliable service that our customers are used to.
If you're looking for a reliable supplier during what's become an extremely unprecedented trading period, then give Vista a call today.
Founded in 1995, Vista specialises in composite and uPVC panels and doors, supplying to fabricators across the UK and Europe. For more information call 01516081423 or visit www.vistapanels.co.uk.  
As featured in September Glass Times Doors Supplement