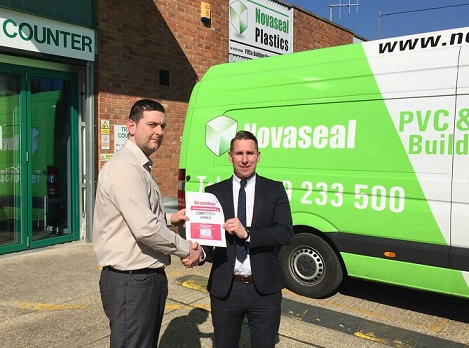 Vista customer, and recent competition winner, Novaseal is using XtremeDoor's specialist colours to capitalise on opportunities at the higher end of the entrance door market.
Chris Stone, Managing Director at Novaseal, comments: "We're delighted to have won the XtremeDoor competition. The main features our customers look for in a composite door are security, aesthetics and thermal performance, and XtremeDoor hits the nail on the head with all three.
"One particular aspect of the door we're capitalising on is the specialist colours. More people are becoming aware of increased colour options and are no longer settling for the standard, which has led to an increase in demand for XtremeDoor in specialist colours, allowing us to sell at higher margins."
Why buy from Vista?
Chris goes on to talk about why he buys from Vista: "Aside from a reliable product, Vista offers an excellent service and this combination of premium products and support from the supplier gives us everything we need to be successful in the composite door market.
"We use Vista's marketing materials to help sell the benefits of XtremeDoor to the end user, and we also take full advantage of Vista's online ordering system to make the process even quicker and easier."
Novaseal is a uPVC and aluminium trade manufacturer, supplying to Hampshire and the surrounding area through its two trade counters, where they stock a wide range of home improvement products.
This includes XtremeDoor, the high specification composite door which features a five-point lock, triple sealed outerframe, a 3×3 way adjustable hinge and stainless steel hardware.
XtremeDoor is available in a standard range of colours, but thanks to its colour coating facility Vista can offer doors in their popular Heritage colour range which includes Duck Egg Blue, Chartwell Green and Moondust Grey.
Sales director at Vista, Wesley Buchan comments: "Congratulations to Chris and everyone at Novaseal on their win. XtremeDoor offers a host of benefits over other composite doors on the market and we're pleased to see Novaseal take advantage of our specialist colour options to increase sales at the higher end of the entrance door market."
Novaseal recently won a free XtremeDoor as part of Vista's prize draw, where Vista are giving away a free composite door from the XtremeDoor range every month.
If you want to be in with the chance of winning an XtremeDoor, simply order one through Vista's online ordering service. You can follow the news on our website or through @VistaPanelsLtd on Twitter, using the hashtag #XtremeDoorWinner.