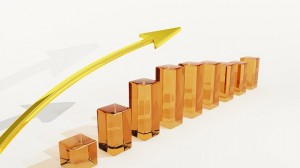 Composite doors, like the XtremeDoor, are one of the most versatile products available to the installer. Durable, energy efficient and incredibly secure, composite doors represent the top-end of the door market and offer great margins. With that in mind, here are 5 ways you can easily upsell the composite doors in your range and maximise your profit.

5 ways to upsell your composite doors
1. Emphasise the benefits of hybrid materials over uPVC
It sounds obvious, but many installers can forget to emphasise the fact that a composite door uses a combination of materials. Even the name 'Composite' is a hint! Every material from the solid foam core, to the timber frame and GRP skin works together seamlessly to provide impeccable incredibly performance values, as well as great security and durability.

2. Mention the exceptional security that a composite provides
High security products have seen their demand rise in recent years and they present a lucrative, and as of yet, relatively untapped market. By mentioning the exceptional security values that a composite door provides you can add a powerful benefit to the debate about why a customer should invest in a new composite door. All of the composite doors we offer here at Vista, including the industry leading XtremeDoor, have exceptional security values. Secured by Design and utilising state of the art multi-point locking mechanisms (including shoot bolts and deadbolts) our composite doors are some of the strongest available on the market.

3. Promote the exceptional energy efficiency of the composite unit
Similar to the growth of the secure product market, demand for energy efficient products has likewise rocketed. Composite doors, thanks to their innovative design and high quality materials, offer some of the highest values of thermal retention available in a door. For instance, our XtremeDoors have been tested by the University of Salford to be 19% more efficient than a solid timber core composite door. By investing in a composite door homeowners can improve the overall energy efficiency of their home, reduce their energy consumption and effectively save money on the cost of their energy bills. Promoting the money saving benefits of a composite door is a great way

4. Talk about the high performance Nan Ya slab
All of the composites in our range, including the XtremeDoor, utilise Nan Ya slabs. These provide truly incredible thermal and acoustic insulation, impressive durability and versatile aesthetics. Mentioning the Nan Ya slab used in the construction of your composite is a great tactic to convince wary homeowners to invest in a composite.

5.Emphasise the range of styles, designs and glazing available
Composite doors come in an incredibly versatile range of styles, designs and colours. There's also a wide choice of glazing types available, from double and triple glazing, to solar control and self-cleaning glass. Emphasising the range of choice on offer when it comes to choosing a composite door can often tip the balance when it comes to convincing a homeowner to buy one.