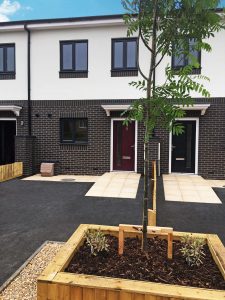 Leading composite door manufacturer Vista Panels has supplied a large number of its award-winning XtremeDoor composite doors to two new sites of zero-carbon housing, highlighting the company's commitment to helping the UK achieve net-zero carbon by 2025.
Working in collaboration with sustainable modular home manufacturer ilke Homes, Vista supplied its highly thermally efficient range of doors to Positive Homes, a developer that specialises in ultra-low energy homes, for a site in Newark.
Thanks to precision-engineering techniques, each of the nine three-bedroom homes built have an 'A' energy rating, and can be heated for less than £1 a day, translating into huge long-term cost savings.
Vista also supplied doors to ilke and leading service, business energy and regeneration company ENGIE, helping them to deliver some of the very first zero-carbon houses to the Royal Borough of Greenwich.
The high-quality and sustainable council homes are the first of 750 to be delivered across the borough as part of the 'Greenwich Builds' programme.
Vista's Commercial Manager John Pinder comments: "We've worked closely with ilke Homes, and it's fantastic to see our door being used on these net-zero projects that will transform the housing market as we know it.
"At Vista, we are very excited to be partnering with companies that are looking to take on the UK's housing crisis and reducing our carbon footprint at the same time. All this will help the UK to meet its zero carbon commitments, and we very much look forward to supplying similar projects in the future."
For more information call 0151 608 1423 or visit www.vistapanels.co.uk.