The quality of a home improvement product such as a window or door is determined by a number of various factors like durability, security, and ease of use, but there's a way to quickly identify products that are renowned for one or all of these things and that's in the form of an accreditation. Relevant industry experts look at home security products and give their stamp of approval on ones that they deem as going above and beyond to deliver a great product.
What is the OwlMark™ accreditation?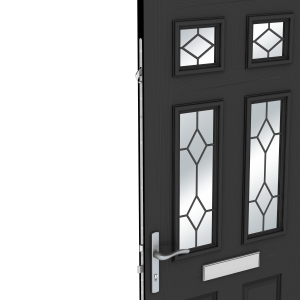 You might not have heard of the OwlMark™ accreditation and that's because it was uniquely awarded to the AV2 locking system. The University of Birmingham Centre for Gerontology independently assessed products for their suitability of use with the elderly. The AV2 lock was chosen for the OwlMark™ accreditation because it eliminated the need for lifting the handle in order to engage the lock, which is ideal for older people who might suffer from things like arthritis.
What is a Secured by Design accreditation?
When a product boasts a Secured by Design accreditation it means that it's been recognised by a police initiative designed to promote the most secure options available for your home. As well as the AV2 locking system, the XtremeDoor composite doors that Vista Panel provide have achieved Secured by Design status thanks to their 5 point locking system.
What is the Association of Composite Door Manufacturers?
The Association of Composite Door Manufacturers (ACDM) was formed to introduce self-regulation and discipline for those that manufacture composite doors. To be a recognised member of the ACDM, the composite door manufacturers in question must have achieved a PAS 23 and PAS 24 certification with a UKAS test house. This establishes that any member of the ACDM offers composite doors to a certain quality and standard.

What is a CE marking?
A CE marking is provided by the company responsible for bringing a complete product to market. The CE mark itself indicates the product has conformed with the health, safety, and environmental protection standards for products sold within the European Economic Area. At Vista Panels we aren't able to CE mark our PVCu panels as they're supplied with glazing but not hardware so the customer would be responsible for CE marking them. The composite doors we supply are CE marked by us though.
Why choose Vista Panels for trade door products
Vista Panels provides PVCu panels, composite doors, and the AV2 locking mechanism for trade customers across the UK. Our products and manufacturing process have earned us many accreditations over the years so you can trust in our ability as a top tier supplier. If you're interested in our products, feel free to get a quote.