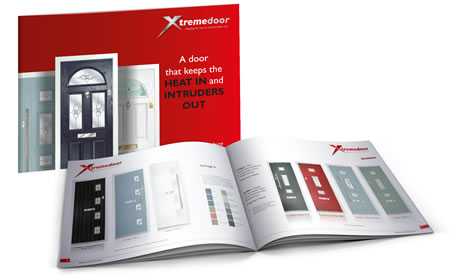 One of the highest specification composite doors on the market is now even better thanks to a new range of premium hardware. XtremeDoor, the high performance composite door, is now available with a new range of letter plates, long bar handles, internal round knobs and a 'heritage' lock. Vista is one of the first fabricators to offer this range of hardware, giving their customers a major advantage over the competition.
The new additions will allow Vista customers to increase profits by appealing to changing consumer tastes at the higher end of the market.
Managing Director of Vista, Keith Sadler, comments: "Composite doors are seen as a high-end home improvement product and popular with homeowners looking for an alternative to uPVC door. More recently, consumer preferences are shifting away from standard hardware such as lift lever handles, which are commonly found on uPVC doors and first generation composites, and towards European style long bar and shaped handles.
New XtremeDoor composite door hardware options
"Our new hardware range has two options: the contemporary looking long handle which tends to be popular with the 'Grand Designs' type of consumer, or the heritage lock which is more suited to the consumer that likes the look of a timber door. Having both products in their armoury means the installer can cater for a wide range of consumer tastes and is more likely to win business."
XtremeDoor is a composite door designed to provide extreme security, thermal efficiency and weatherproofing for the end-user. Manufactured using the Nan-Ya slab the door features a five-point locking system, triple sealed outerframe, and thermally efficient uPVC edgebanding, allowing the door to achieve U-values as low as 0.8W/m2K in certain styles.
There is also a huge choice of style, colour and glazing options, and a selection of these are showcased in the new Vista additions brochure alongside the new range of hardware. Installers can use the additions brochure to sell the benefits of XtremeDoor to homeowners looking for a premium solution when upgrading their old front door.