Modular housing is a rapidly growing part of the construction industry in the UK. Modular construction, a type of modern method construction (MMC), revolves around buildings that are manufactured in a factory and brought to the site. Compared to a traditional house build, where components arrive in the form of materials such as bricks, mortar, and pipework, modular build homes are delivered in prebuilt sections which are assembled on site.
Working in collaboration with sustainable modular home manufacturers such as ilke Homes and Connect Modular, we have supplied our doors sets on a number of high-profile and pioneering developments. These collaborations got us thinking about just how many benefits modular homes present us with as a society, including paving the way for an eco-friendlier construction future.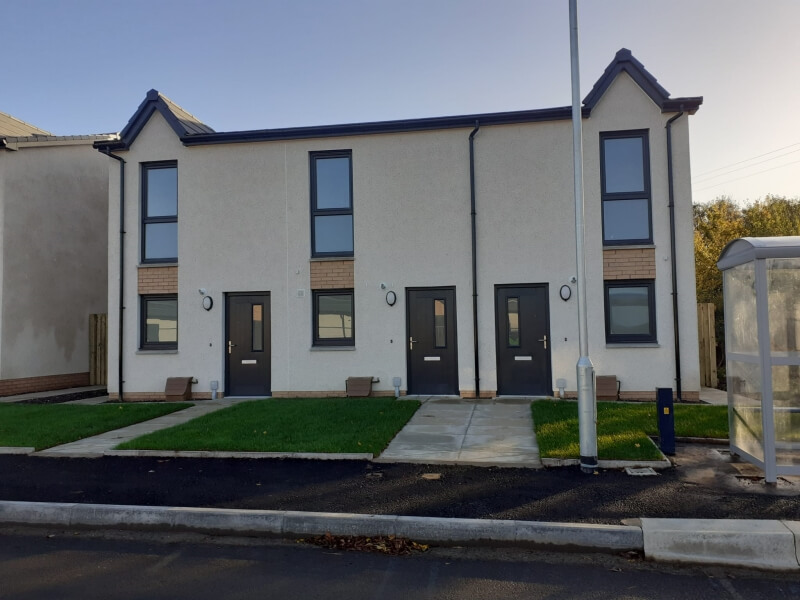 How will modular homes tackle the environmental crisis?
With the UK's outlined journey to becoming net carbon zero by 2050, modular homes' eco-credentials are expected to be a key driver of demand for developers and homebuyers alike. Here are the top 6 ways modular homes will help tackle the environmental crisis:
According to industry estimates, modular home construction can reduce up to 52% of construction waste. Manufactured under strict guidelines, these factory-manufactured units also minimise on-site waste.
Modular homes can be built more efficiently using far less water than traditional methods, promoting the marriage of construction and sustainability.
Modular buildings have a lower carbon footprint because there are fewer lorry deliveries to the site, cutting emissions.
These MMC homes can also insulate more effectively, meaning homeowners will experience less energy wastage and lower energy bills. The high levels of insulation also help to provide better noise reduction for these homes.
The materials used to construct modular homes are green, raw, and non-toxic. The insulation in modular homes is made from recycled materials, such as rigid polystyrene, which creates an insulation blanket around the exterior walls and roof. This protective feature, in turn, results in energy savings and a reduced carbon footprint.
The ability to finish building projects in substantially less time than traditional structures helps to minimise adverse environmental effects of the construction site, such as noise, debris, and emissions.
Why are modular homes becoming more popular?
Not only are we facing an environmental crisis here in the UK, but we are also facing a housing crisis. The housing crisis describes the shortage of housing, particularly social and genuinely affordable housing, which has led to spiraling rents and house prices across the country. Many young people and families on low to middle incomes struggle to afford to rent or buy a decent home.
Building new homes using traditional methods can be a time-consuming process that creates significant noise and traffic during a long build process, which can often attract the displeasure of local residents. Modular homes reduce construction times and therefore help to overcome one of the biggest objections to the building of new homes; the time it takes to build. Modular homes enable developers to build more homes at a much faster rate, providing housing for those who need it with minimal disruption to local residents.
Choosing a modular option massively reduces the time it takes to build a new home. Going from ordering a home to the completion of construction usually takes around 16 weeks. This includes 10 weeks of build and prep in the factory and between 4 -6 weeks for assembling the home onsite. This compares to build times of around six months or even more for traditional homes depending on the complexity of the project.
Other benefits of modular homes
Nowadays, modular homes employ cutting-edge architecture and building techniques, which helps to eradicate the prejudices some buyers may have over prefabricated homes. It is also argued that developing homes in a factory following stringent guidelines is safer and produces higher-quality homes as opposed to ones traditionally built outside at the mercy of the elements.
As well as reducing carbon emissions, modular homes bring financial gains in terms of reducing construction costs which, in turn, enables big developers to take on more developments and build more properties nationwide. Here in the UK, we can expect to see more factories built to accommodate the rapidly increasing demand for modular homes. This will help create more job opportunities, boosting our economy.
Find out more about working with Vista
For more information, or to talk to us about a modular home development collaboration, call 0151 608 1423 or visit www.vistapanels.co.uk.