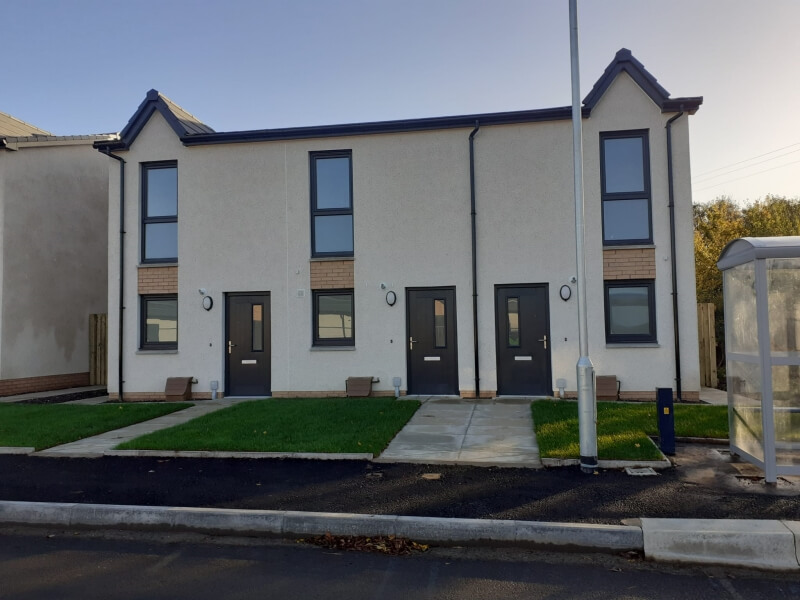 Leading composite door manufacturer Vista Panels were pleased to work on a £9.8 million development in South Ayrshire, Scotland's largest social modular housing development to date, helping to deliver much-needed new affordable housing in the area.
What is modular housing?
Modular housing is the revolutionary new approach to new build construction that will dramatically reduce lead times, minimise site time and save the industry millions. Each of the house's individual components are manufactured in off-site factories. Then, the components are transported to site and assembled there. This helps to reduce the impact of Brexit and current supply chain difficulties. Furthermore, it can dramatically reduce the amount of wasted resources and excess carbon.
Here at Vista, we believe it's the best way of ensuring that the construction industry meets the Future Homes Standard by 2025. That's why we were honoured to work on this highly ambitious modular housing project.
New build doors for modular housing
Working with Riverside Scotland, the UK's largest social housing landlord, and Connect Modular, part of The Wee House Group, Vista supplied its high-quality GRP composite door for all of the factory-built homes.
Our composite doors are perfect for any new build project, in both appearance and features. Their exceptional levels of thermal performance will help new build projects to comfortably adhere to new building regulations regarding energy efficiency. Incredible security and aesthetic features are also sure to leave prospective homeowners satisfied. Needless to say, our partners for this project were overjoyed with their performance.
"We are thrilled to see our door used in this growing sector, and I feel it will really help tackle both the housing crisis and the environmental one," comments Ian Smith, Vista's Business Development and Marketing Manager.
The modular housing project
The investment, which includes Scottish Government funding of £4.7 million, begins with the delivery of 63 brand new affordable homes, the first phase of a 250-strong property development located at the site.
The first affordable homes will be made available to Irvine Housing Association customers before the end of the year.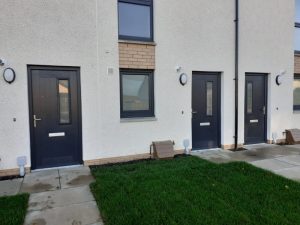 Councillor Philip Saxton, Housing and Community Wellbeing Portfolio Holder for South Ayrshire Council said: "This is fantastic news for Dundonald and South Ayrshire, as we look to expand affordable housing. We will be able to allocate all 63 of these homes to people on our housing waiting list. I look forward to the start of works."
Ian concludes: "We've worked closely with several modular house builders this year, and it's very rewarding to see our products being used on projects that contribute to transforming the housing market.
"The UK's housing crisis and reducing our carbon footprint are both very important issues to us. We're therefore very excited to be partnering with companies that share the same values.
"We were delighted to work with Riverside Scotland and Connect Modular, and we very much look forward to supplying similar projects in the future."
New build doors for modular housing projects
Vista are excited to work with modular housing businesses across the UK. We believe that this is the future of new build construction. We are more than ready to provide projects with our top-quality range of composite doors. For more information call 0151 608 1423 or contact us online.
Related topics:
Vista contributes to two net-zero carbon housing developments
XtremeDoor helps Liverpool regeneration project scoop SEVEN awards