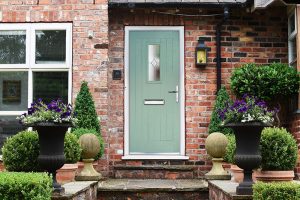 The majority of customers seek a 'no fuss' door solution, so it stands to reason that prehung doors are the first choice for busy door installers. Amongst their many benefits, prehung door sets implement a faster fitting process which inevitably increases sales and productivity.
To help you get the job done right first time, we thought we'd share our top tips on installing prehung exterior doors below.
Correctly order to fit the aperture
It sounds incredibly simple, but if you get new door measurements wrong you won't even get out of the starting blocks, let alone fall at the first hurdle! So, be sure to double or even triple-check your door measurements before giving them to your door supplier.
Shim before installation
During the levelling process, shims (or wooden wedges) help to brace the door jamb and provide crucial nailing support. Shims work by sliding in until they fit comfortably between the jamb and the frame. After the jamb has been centred, level and shim the door on the hinge side only; between the jamb and the rough-in frame. Additional shimming may be required behind, above and below the strike plate. Once you're happy with the door's alignment, cut off the ends of the shims for a smooth finish.
Flooring
If the flooring hasn't been installed beyond the door threshold yet, shim beneath the door jamb to account for the height added once the floor is installed. Doing so will eliminate future clearance problems.
Plumb, level and square
Avoid common issues like sagging, unwanted opening or closing and hinge binding, by making sure the door is correctly aligned.
Using a full-length spirit level on both side jambs and the outer edge of both jambs, make sure the lock side and the hinge side have true vertical alignment.
Check the top jamb and threshold sill to determine whether the door has true horizontal alignment.
Using a tape measure, measure from where the threshold sill and side jamb meet, up to the opposite top corner where the side jamb meets the head jamb. Record the measurement. Take a second diagonal measurement from the opposite corner, corner to corner. If the measurements match, the door is square; all four corners are at perfect right angles.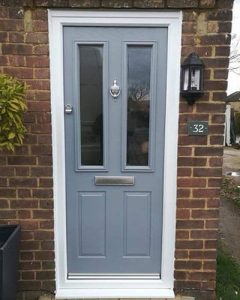 Source a specialist trade door supplier
You rely on your door supplier to promptly deliver quality products that are competitively priced. You need to keep your existing customers loyal and happy, attract new clients and keep your options open to the possibility of entering new markets. If your current trade door supplier is falling short of just one of these fundamental goals, it is in yours and your client's best interests to switch suppliers sooner rather than later.
The key reasons to switch your door supplier
Quality trade doors tailored to proactive door installers
Vista Panels has been supplying quality trade doors to a variety of leading door installers for over 25 years. Delivering some of the most competitive trade prices in the industry, there's no need to worry about sacrificing product quality, revenue or value with prehung doors from Vista Panels.
From prehung entry doors with sidelights to attractive composite doors that smoothly mimic modern aluminium, install the doors your customers deserve. Give Vista Panels a call on 0151 608 1423 or contact us online today for all your specialist trade door needs.
Trade doors FAQ
* What is the difference between a prehung door and a slab door?
Essentially a complete door package, prehung doors come mounted onto a frame and include everything needed to install them, e.g. hinges, mortises, locks, handles. A slab door is literally the door panel and nothing else.
Prehung composite doors from Vista Panels feature a range of hardware including:
Adjustable hinges: 3 x 3 way adjustable for lateral and vertical adjustments. Provides quick and easy installation, Allen key operated and compression adjustable.
Multipoint locks: High-tech 5-point locking systems with Secured by Design accreditation = superb levels of home security.
Nanocoast furniture: 304 grade stainless steel door furniture. Salt air resistant. Ideal for homes close to the sea.
Related topic: What makes a good door supplier?