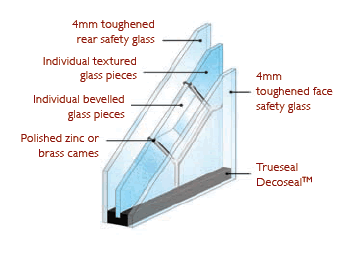 It's a well-known fact that composite doors can provide great thermal efficiency benefits to a home. Imagine what these benefits would be like if you combined a composite door with one of the most effective energy efficient home improvement products around: triple glazing.
What is triple glazing?
Triple glazing, as the name suggests, uses the space between three panes of glazing to slow down the transfer of heat from the inside of a building, to the outside, providing increased energy efficiency. The technology has been around in the industry for several years, and we're proud to offer triple glazed composite doors as part of our product range.
Incredible energy efficiency
Triple glazing, when manufactured and installed correctly, can offer excellent energy efficiency values. As long as the glazing and spacer pane meets the required thickness, triple glazing can have a noticeable impact on the energy efficiency of a home.
Clever design for optimum insulation
The intelligent design of our composite doors, and the range of energy efficient materials used in their construction, mean that our composite doors are brilliant acoustic and heat insulators, and thus, very energy efficient. Combined with ultra-efficient triple glazing, a composite door from Vista could really offer homeowners a noticeable reduction in the cost of their energy bills.
Specialist suppliers of composite doors nationwide
Vista are specialist trade suppliers of composite doors across the Liverpool area and nationwide. We offer a comprehensive range of composite doors, designed to suit a range of properties and needs, even manufactured with triple glazed cassettes.
or more information about any of our products or services, please give us a call on 0151 608 1423 or alternatively, send us an email. We hope to hear from you soon.