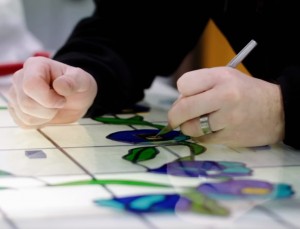 Decorative glass options for increased personalisation
As well as a door that performs great in terms of both security and energy efficiency, today's modern homeowners appreciate a door that is as visually stunning as it is functional.
That's why here at Vista panels we go above and beyond to provide installers with the correct tools to offer a composite door with hundreds of different decorative glass options that are created all by hand in our in-house factory.
Various looks that range from classic to contemporary
Because we have over one hundred individual decorative glass designs available, you'll be able to offer homeowners a door that can project almost any sense of style imaginable. You can keep it classic with simple bevels and led work or go more contemporary with fused on coloured bevels and stainless steel. Never before has it been easier to offer such a diverse range of unique glazing styles at such a high handcrafted quality.
The various colours and designs incorporated within the Xtremedoor is only further complimented by our eclectic range of panel colour options that are perfectly suited to the changing trends of consumer tastes and wants. Whilst it's possible for the Xtremedoor to be coloured to virtually any colour thanks to RAL, our popular heritage colours range from Duck Egg Blue, Chartwell Green and Moondust Grey.
The UK's #1 composite door never looked so good
All of these bespoke colouring and decorative glazing options wrap around what is most commonly referred to in the industry as the UK's highest performing composite door, boasting impressive U-values as low as 0.8W/m2K. When necessary this can be further enhanced with additional double and triple glazing options which never corrupt or intrude upon the selected handcrafted glass design.
Xtremedoors from Vista offers your customers increased choice
Vista Panels have remained one of the one of the market's leading supplier of high quality composite doors for 20 years now, helping tradesmen further standout from the crowd with many generous decorative glass options that make for some impressive personalisation. To find out more about our range of products and options, give us a call on 0151 608 1423, or enquire for free online today!