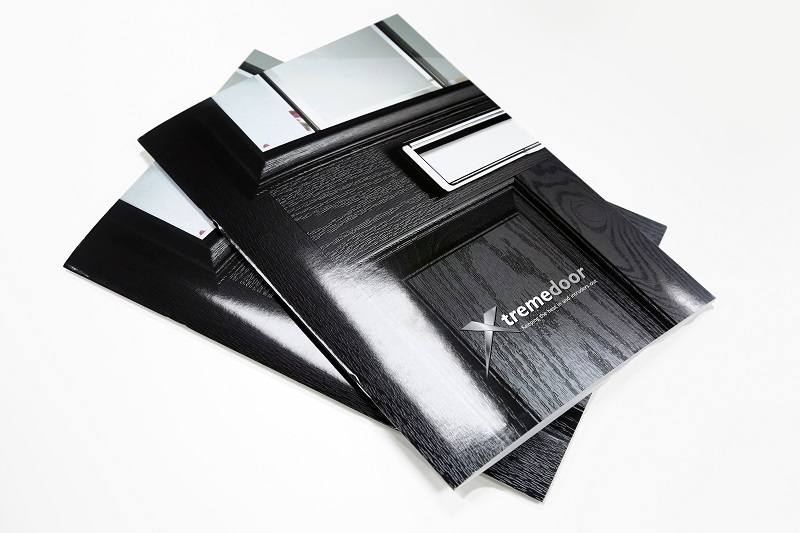 2017 has been a record year for Vista Panels Ltd and a lot of that success is attributed to the XtremeDoor brochure released back in January. The new styles and colours along with the improved door specification proved a real hit with their customer base.
New XtremeDoor brochure
The firm has now re-designed the brochure to focus on XtremeDoor's best-selling styles and colours. By carefully looking at what has been going through the factory, they have made the new version consumer-led focused and ultimately more appealing.
The new brochure highlights the consumer trend towards Anthracite Grey, which is right behind the long-standing leader Black in popularity. New colours Slate Grey and Moon Dust have also moved up the pecking order, with Chartwell green not far behind. The new brochure gives more room to contemporary door styles such as the new Verona (single glazed), which has been a real hit.
"With Vista now manufacturing 800 doors per week, it's clear our installers know how to sell a composite door," comments Ian Smith Vista's Business Development and Marketing Manager. "With that in mind, the brochure doesn't give up too much space to 'bumf'. We wanted to get straight into door styles to be honest, a salesman is not going to read through all the reasons for them to be choosing a composite door if he is already there to sell one."
"We wanted to create an easy to navigate brochure that doesn't overwhelm or bore the consumer and showcases the most popular designs and colours – and I believe we've done just that. It reinforces the installer providing one of the easiest brochures to sell from, striking the right balance between enough choice and without overload."
The XtremeDoor consumer facing website has also had a revamp with an easy to use door designer and updated gallery showing off their customer's installations.
"We also have a bespoke door designer that can be dropped onto our customers websites, which is proving to be a powerful lead generation tool."
Don't forget to request your copy of Vista's new and improved 2018 XtremeDoor brochure.
Founded in 1995, Vista specialises in composite and uPVC panels and doors, supplying to fabricators across the UK and Europe. Vista was named 'Panel and Composite Door Supplier of the Year' at the National Fenestration Awards 2016 and is nominated for the same prestigious award this year. Ian Smith is also nominated for Social Networker of the Year.
For more information call 01516081423