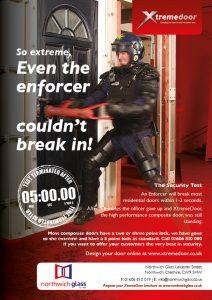 Leading Cheshire uPVC installer Northwich Glass has developed a close, supportive relationship with its composite door supplier Vista – and now, the fast-growing door manufacturer is supporting Northwich as it exhibits at the prestigious Grand Designs Live show.
The 5-day event, to be held at the Birmingham NEC from the 19th to the 23rd of October, sees over 500 organisations showcase the latest and best home improvement products to an audience of thousands of industry specialists and end users. It will be presented by Kevin McCloud, host of the hit Channel 4 TV show that inspired the event.
In addition to sending a member of staff to support and help promote Northwich, Vista has also produced point of sales material especially for use at the event.
"This is a fantastic time for us to be stepping up and showcasing ourselves," commented new Northwich managing director Mark Patrick. "We're investing extensively in new resources, purchasing vehicles, constructing a new showroom, and training our staff, and we're significantly expanding our product offering with the support of our long-term composite door supplier Vista. Northwich is a fantastic brand, a firm with 551 years of accumulated industry experience, and, under new ownership, we're determined to make it the biggest and best business we can possibly be."
"As we look to expand and improve our operations in the months and years ahead, we're hugely grateful for the continued support we get from Vista. It goes without saying – the XtremeDoor is a fantastic product, leading in its class. But that's just one aspect of the service you get when you deal with Vista. They offer first-class marketing material, extensive technical support, and so much else that goes on behind the scenes."
Northwich Glass at Grand Designs Live
Vista MD Keith Sadler commented: "We're delighted to be supporting Northwich as they showcase at Grand Designs Live. They're a fantastic installer, committed to quality and exceptional customer service, and spend thousands of pounds with us every year. We wish them the very best of luck for the show, and look forward to continuing to work closely with them for a long time to come."
Founded in 1995, Vista Panels has grown every year it's been in business, steadily expanding to become one of the country's biggest and most respected composite and uPVC door manufacturers. Continuing the unbroken year-on-year growth it has experienced since it was established, the fabricator saw a 50% increase in fire door sales, a 30% rise in coloured composite doors and an 11% rise in contemporary-style doors in 2015.
To learn more about Northwich Glass, please feel free to give us a call on 01606 810 000.