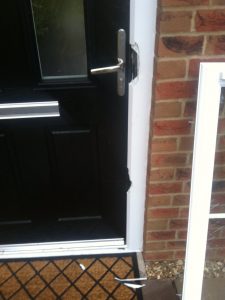 XtremeDoor, the best-in-class composite door by Merseyside fabricator Vista, has successfully thwarted two separate break-in attempts in the space of a few weeks.
XtremeDoors installed at a new-build property in Southampton and a Eurocell depot in Camberley, fought off burglars with crowbars, wheelie bins used as battering rams and even a car.
"It's never good to hear about incidents like these, and our sympathies are with the property owners for any damage that the would-be burglars might have caused," commented Vista Managing Director Keith Sadler, "but it's fantastic to hear that in both cases the XtremeDoor stood up to everything the criminals could throw at it.
"We specifically designed the XtremeDoor to rank among the most secure doors on the market. It's PAS 24 approved and fully compliant with Document Q, passing the stringent cut-through test. It's also achieved the Secured By Design accreditation – and now, on top of these rigorous quality and security checks, we have two real-world examples of the XtremeDoor providing the most robust resistance to attempted break-in."
XtremeDoor – a secure composite door
Vista has recently enhanced the XtremeDoor's security performance even further. The latest version of the product comes with a 100% thicker 4mm GRP skin. "The GRP constructed composite door has come in for some criticism in the past, and has been dismissed by some as a 'foam filled' door set," Keith continued. "But there's a huge amount more to it than that. GRP was designed to be able to resist heavy impacts. In World War 2, the Royal Navy even used it as a counter-measure against magnetic mines. Document Q told us it can withstand knives – now we know it can withstand wheelie bins, crowbars and cars, too. If the assailants weren't aware of its security credentials before, they certainly are now.
"Along with an enhanced slab and thicker GRP skin, the XtremeDoor now also features an upgraded five-hook locking system which pulls tighter to the frame, and an anti-snap, bump, pick and drill cylinder. Every element of the XtremeDoor has been pain-stakingly developed to offer the best performance. When you add one of the most extensive choices of colours and designs in the industry and exceptional thermal efficiency, you've got a best-in-class composite door perfect for any property or purpose."
Founded in 1995, Wirral-based Vista specialises in composite and uPVC panels and doors, supplying to fabricators across the UK and Europe. Last year, Vista was acquired by Eurocell, one of the UK's leading manufacturers, distributors and recyclers of window, door, conservatory and roofline products. Vista was also named 'Panel and Composite Door Supplier of the Year' at the prestigious National Fenestration Awards 2016.
For more information call 01516081423 or send us an email.
Related topic: 5 ways to upsell your composite door